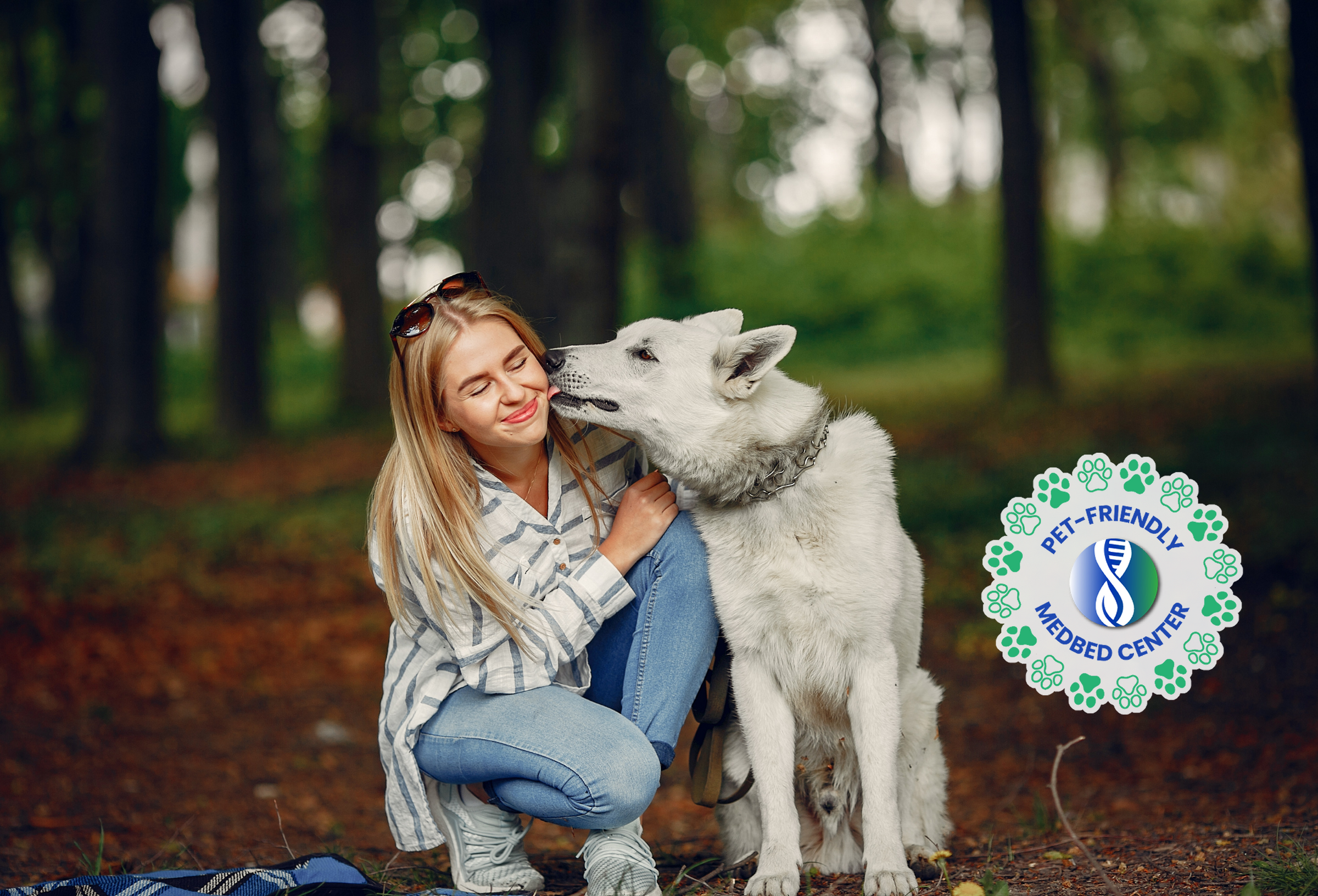 TESLA MEDBED CENTER FOR PEOPLE & THEIR PETS
ROLLA, MO
Your Partners in Health:
Dr. Jessica Wodohodsky, Doctor of Veterinary Medicine, Advisor to Pet Visitors
Dr. Seth Robinson, Doctor for Rolla MedBed Center, Advisor to Human Visitors
715 W Lions Club Dr.
Rolla, MO 65401
Email: MedBedCenterPet-RMO@TeslaBioHealing.com
Phone: 573-426-3647 or
573-528-7032 or
302-265-2213
Tesla MedBed Center For People & Their Pets - World's First Energy Wellness Center
Elevate your well-being with BioPhoton Technology. Enjoy Total Wellness, inside and out, with Whole-Body Life Force Energy Immersion.
Pain-Free: Move comfortably, reclaim your vibrancy, and reduce chronic pain. Discover natural, non-invasive pain relief solutions at every center. Learn more here.
Sleep: Transform your health with therapeutic rest. Experience deep rejuvenation and vivid dreams as you sleep your way to better health. Learn more here.
Hydration: Cleanse, hydrate, and rejuvenate from the inside out with Biophoton Energized Spring Water. Learn more here.
Energized: Experience enhanced inner vitality and live life to the fullest after each session.
...plus many other benefits of Life Force Energy experienced by our center guests and at-home device users!
At Tesla MedBed Centers, you'll immerse yourself in the ultimate whole-body Life Force Energy experience!
Enjoy the effects of High-Strength Biophoton Technology with our over-the-counter medical devices. We provide a unique experience in that each room is equipped with Center-Exclusive MedBed Generators that let guests stay in a relaxed state of being and receive biophotons into every living cell of the body.
Guests can enjoy an environment rich in life force energy and conducive to maximum healing and relaxation, in addition to the other therapeutic benefits with significant clinical outcome improvements.
Each center offers unique amenities that vary by location—including services enhanced with Tesla BioHealing Technology— such as Energized Massages, Energized Yoga, Energized Meditation, Energized Gym/Fitness, and Energized Swimming/Pool.
To deliver an everyday life quality impacting and sustainable clinical outcome-driven health-benefiting experience, our Centers offer multiple services and plans catered to where you are on your personal healing journey.
First Time Visitor? Enjoy this special offer!
Read for yourself why so many users are sharing their remarkable stories with us! Learn more here.
Track your Progress with Tesla BioScore.
Visit our center in person for Hourly MedBed Sessions or Day MedBed Sessions. Experience for yourself why so many are sharing their remarkable stories with us!
At Tesla MedBed Center for Pets, we are proud to be headed up by an experienced veterinarian, Dr. Jessica who is serving Rolla, Waynesville, St. Robert, St. James, St. Louis, and many more of the surrounding areas.
In fact, our animal clinic is one of the few in the area that offers both traditional and holistic pet care. We provide a warm, welcoming, calm, kid-friendly environment that is designed to make you and your Pet feel comfortable throughout your visit. Our veterinarian, Dr. Jessica in Rolla, MO, welcomes your call for both routine care and holistic services and she desires to find and address the root of the disease with your beloved Pet. 
Our compassionate and highly educated veterinary team is headed up by Dr. Jessica Wodohodsky, who has gone beyond the 'norm' of vet education by attending conferences with the American Holistic Veterinary Medical Association, American Veterinary Medical Association & Ozone Therapy Summits. Her skills allow her to go above and beyond conventional veterinary care with the implementation of Ozone Therapy, Laser (photobiomodulation) Therapy, Herbal Medicine, PEMF Therapy, Homeopathic Dietary advice, Aromatherapy, and many more Alternative Therapies for animals.
Dr. Jessica Wodohodsky will happily talk to you about the various options that can help your pet live a longer, healthier life. Call her direct at phone number 573-426-3647 or 573-528-7032.
Center Service - A La Carte
Start with a single service below!
Biophoton Phenomenon User Experience Program for Pets
We're inviting your pets to experience Tesla BioHealing technology in the comfort of your own home with the opportunity to purchase—and own— with confidence!
Center Service - Membership
Our membership offers you the best value, best choice, and lowest cost per visit for sustained energy benefits. Receive up to 8 visits per month plus many perks and extra savings only for members!
MedBed sessions at significant discounts and the ability to receive multiple (up to 8) day and hourly sessions per month.
20% discounts on Tesla MedBed Center Services for further improvements.
20% discount on Home-use products so you can continue to receive energy boosts conveniently at home.
Lease-to-Own home-use 4 Pet BioHealers
Home-Use Products
Combine Home-use products with routine center visits to maintain the healing momentum and sustain the benefits at home. Home-use devices offer the consistency often needed for long-term benefits and optimal health.
Not able to travel to a Tesla MedBed Center, but ready to start the Tesla BioHealing Experience? Shop home-use products below and turn your home bed into a Tesla MedBed!
Gift Card
Give the gift of everyday Energy, Sleep, and Pain-Free living to yourself and your loved ones, pets included 😊💗
Gift Box
Give the gift of wellness and health to your loved ones with this special Gift Box!
Wellness Consultation and Bio-Well Energy Scan 
The scan consists of a thorough analysis of various energy levels and physiological systems throughout your body which assists in providing a detailed overview of where Life Force Energy may be lacking.

We will also take the time with you to answer any questions you have about our technology and how it could benefit your health specifically. 
Read more about the Bio-Well Energy Scan here.
Hourly MedBed Sessions
Fast Life Force Energy boosts whenever is convenient.

Many people note improvements in their wellbeing even after only an hour of resting on a Tesla MedBed, and often tell us that they feel recharged for the rest of the day.

Simply by laying on our Tesla MedBed, you will be receiving large quantities of Life Force Energy that the cells of your body can use as at will and as needed to begin recharging and repairing your system. 
Overnight MedBed Session
Consider this a Life Force Energy filled hotel stay!

This is our recommendation for receiving significant amounts of Life Force Energy at our larger centers.

Simply by laying or sleeping on our Tesla MedBed, you will be receiving large quantities of Life Force Energy during your stay that the cells of your body can use as at will and as needed to begin recharging and repairing your system.