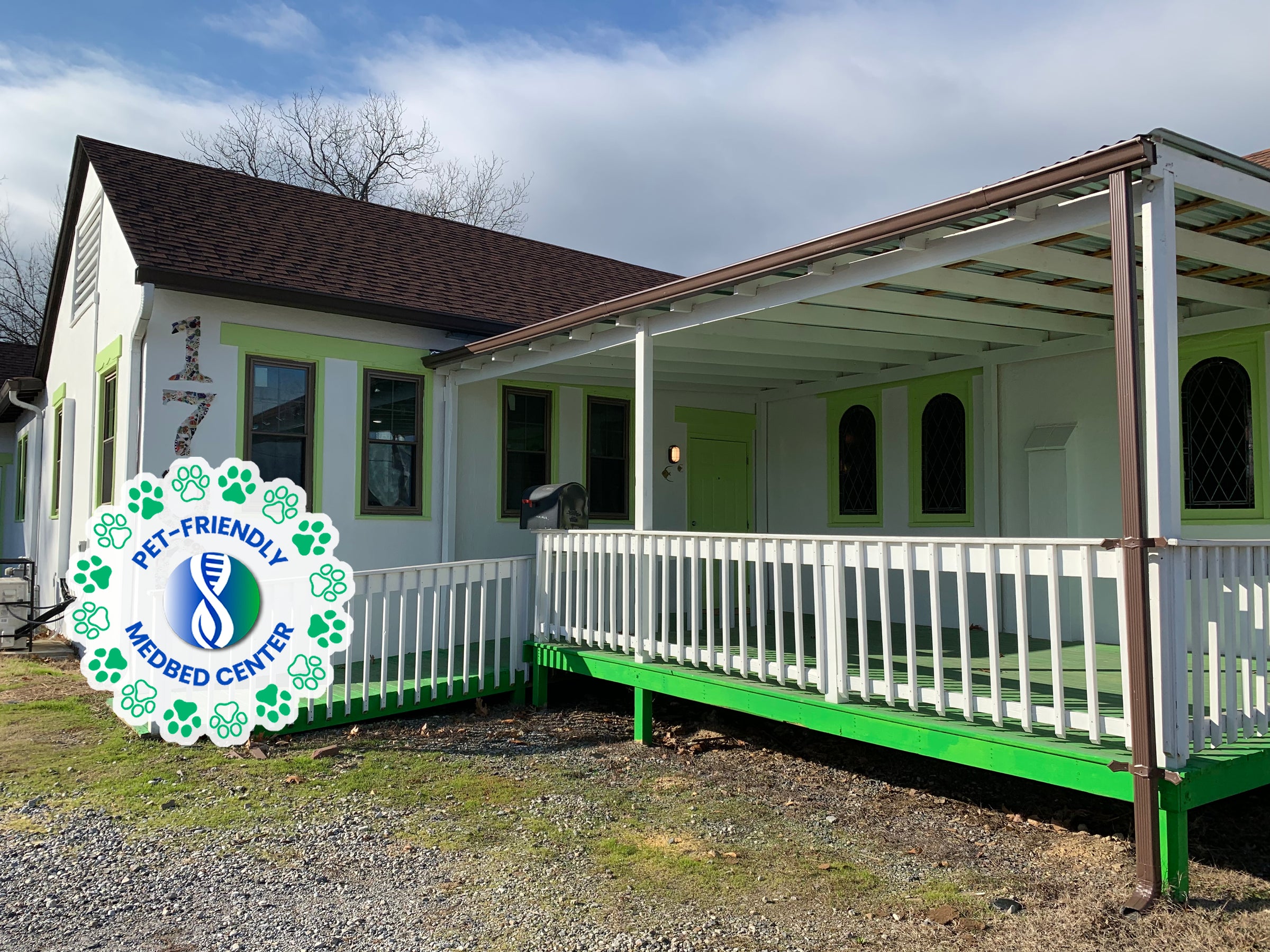 Tesla MedBed Center
Hot Springs, AR
Tesla MedBed Center - World's First Energy Wellness Center
Elevate your well-being with BioPhoton Technology. Enjoy Total Wellness, inside and out, with Whole-Body Life Force Energy Immersion.
Pain-Free: Move comfortably, reclaim your vibrancy, and reduce chronic pain. Discover natural, non-invasive pain relief solutions at every center. Learn more here.
Sleep: Transform your health with therapeutic rest. Experience deep rejuvenation and vivid dreams as you sleep your way to better health. Learn more here.
Hydration: Cleanse, hydrate, and rejuvenate from the inside out with Biophoton Energized Spring Water. Learn more here.
Energized: Experience enhanced inner vitality and live life to the fullest after each session.
...plus many other benefits of Life Force Energy experienced by our center guests and at-home device users!
At Tesla MedBed Centers, you'll immerse yourself in the ultimate whole-body Life Force Energy experience!
Enjoy the effects of High-Strength Biophoton Technology with our over-the-counter medical devices. We provide a unique experience in that each room is equipped with Center-Exclusive MedBed Generators that let guests stay in a relaxed state of being and receive biophotons into every living cell of the body.
Guests can enjoy an environment rich in life force energy and conducive to maximum healing and relaxation, in addition to the other therapeutic benefits with significant clinical outcome improvements.
Each center offers unique amenities that vary by location—including services enhanced with Tesla BioHealing Technology— such as Energized Massages, Energized Yoga, Energized Meditation, Energized Gym/Fitness, and Energized Swimming/Pool.
To deliver an everyday life quality impacting and sustainable clinical outcome-driven health-benefiting experience, our Centers offer multiple services and plans catered to where you are on your personal healing journey.
First Time Visitor? Enjoy this special offer!
Read for yourself why so many users are sharing their remarkable stories with us! Learn more here.
Track your Progress with Tesla BioScore.
Welcome to Tesla MedBed Center of Hot Springs, Arkansas! Imagine the possibilities of combining the healing energy from Tesla BioHealing products in the natural healing environment in Hot Springs!
Come relax in our luxury leather recliners while your body drinks in the energies of the Tesla BioHealing products. You can relax in a private space in solitude or a shared space with family or friends. If you like to be in the midst of the action, you can enjoy the energy in our medicinal Tea Room. Learn about the healing qualities of the different teas that our center offers.
Hot Springs National Park is unique. It's the only energy field of its kind in the world. There are three large energy crystals in the world. One is in Peru, one in Brazil, and the last one in Arkansas. This large solid crystal in Arkansas is approximately 180 miles long, 80 miles wide, and 25 miles deep, it's the largest of the three solid crystals. This energy field is magnified by the energy of the thermal mineral springs that flow through Hot Springs.
Dr. Janet Westley and the staff invite you to join us in this most unique setting. We will be offering sessions for body-energy reading by using a Bio-Well scanner, along with suggestions on how to improve your lifestyle. Check out what's going on with the different activities in this most unique Tesla MedBed Center in beautiful Hot Springs, Arkansas. We look forward to having you as our special guest!
Center Service - A La Carte
Start with a single service below!
Center Service - Membership
Our membership offers you the best value, best choice, and lowest cost per visit for sustained energy benefits. Receive up to 4 visits per month plus many perks and extra savings only for members!
MedBed sessions at significant discounts and the ability to bring a guest along.
An inclusive Bio-Well 32-Organ Energy Scan which shows your personalized need-to-improve and improvement tracking in energy level.
Energize Message, Yoga, and Meditation (vary by center) which deepen the flow of energy throughout your body.
20% discounts on Tesla MedBed Center Services for further improvements.
20% discount on Home-use products so you can continue to receive energy boosts conveniently at home.
Our Tesla BioScore™ tracker and personal consultation plan to monitor your improvements in your Pain, Energy, and Sleep quality and help you get to goal.
Biophoton Phenomenon User Experience Program
We're inviting you to experience Tesla BioHealing technology in the comfort of your own home and/or at your local MedBed center, with the opportunity to purchase—and own— with confidence!
Center Service - Packages
Unable to commit to regular visits? No problem! Packages offer flexibility. Share with family and friends and can be used whenever you want. Easy monthly or lump sum payment options. Click the package below to get started!
Home-Use Products
Combine Home-use products with routine center visits to maintain the healing momentum and sustain the benefits at home. Home-use devices offer the consistency often needed for long-term benefits and optimal health.
Not able to travel to a Tesla MedBed Center, but ready to start the Tesla BioHealing Experience? Shop home-use products below and turn your home bed into a Tesla MedBed!
Gift Card
Give the gift of everyday Energy, Sleep, and Pain-Free living to yourself and your loved ones, pets included 😊💗
Gift Box
Give the gift of wellness and health to your loved ones with this special Gift Box!