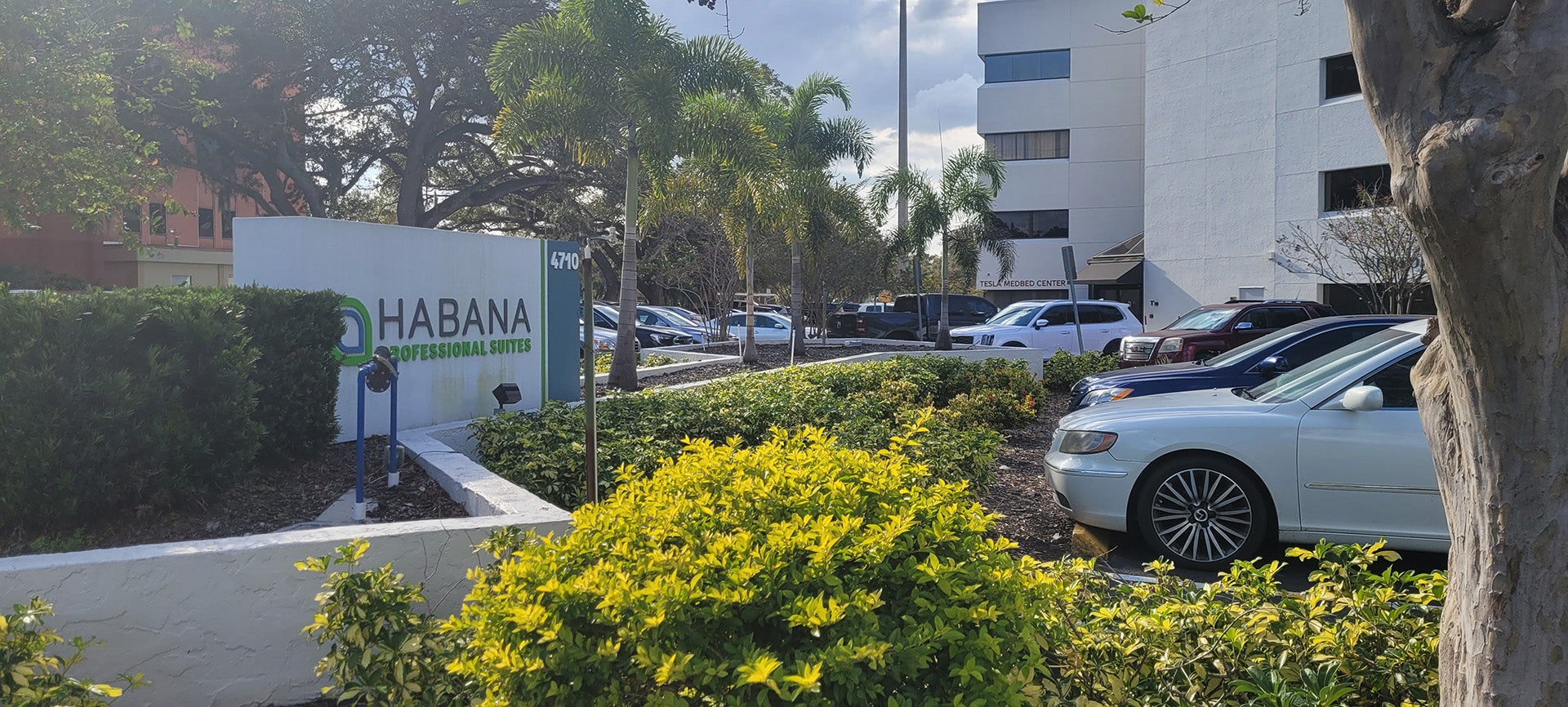 Tesla MedBed Center
タンパ・フェル
東タンパの N ・ハバナ・アブでは、 FL がビオポトンを動力とする Tesla MedBed Spa と Wellness の中心地をさしている。

利用可能なサービス
バイオウェルエネルギースキャン、毎時MedBedセッション、または日MedBedセッションのために個人的に私たちのセンターを訪問。 (*リクエストによる一晩MedBedセッション)。

非常に多くの人が共有している理由を自分で体験してください 彼らの驚くべき物語 私たちと一緒に!

以下のオンライン予約またはお問い合わせ:

4710N Habana Ave,#101
タンパ,FL33614
メール: medbedcenter-tfl@teslabiohealing.com
電話: (813) 293-9984
(月-金午前9時-午後5時)
We are conveniently located next to St. Joseph's Hospital, inside a Medical Facility. Raymond James Stadium, home of the Tampa Bay Buccaneers, is 5 min. away as well as many restaurants and Whole Foods on Dale Mabry Highway. East Tampa is rich in latin culture with a variety of authentic latin restaurants just one block over. We have the popular Publix supermarket .3 mi. from our center. 

Retreat while you Recharge! 
Tesla MedBed Spa and Wellness welcomes you to a unique experience for the day(s) with overnights also available by request. Each MedBed room provides a twin-size bed powered with Center Exclusive Biophoton Generators (equivalent to 14 Gold MedBed Generators of Biophoton Life Force Energy), low lighting and calming scenes of nature. The center has a shared bathroom, a beautiful large walk-in shower, refrigerator/freezer and microwave.  
Expect a stay filled with serenity… high frequency soft music playing along with an aroma of pure essential oils. For your enjoyment, our coffee/tea bar is always available with a variety of organic teas, organic coffee (regular and decaf) and filtered water. We honor our guests with quiet zones throughout the MedBed rooms and ask that any devices be silenced or earbuds be used.  
We invite you to engage all your senses as you support your body's cells in recharging and repairing for optimal, vital energy!   
"I firmly believe that for true restoration and innate healing to occur, the body must be free from chaos and stress - both emotionally and physically. Sound sleep is essential as well. These core beliefs are what make the Tampa Tesla MedBed Center so unique. As guests walk through our doors, they can feel the difference. I take time to connect with each guest and remain completely present for them because there are countless facets to their unique healing journey."
Laura has spent years dedicated to her naturopathy focus, utilizing independent learning while incorporating a variety of modalities, as well as becoming a licensed esthetician. She's the author of a book titled Coming Out of the Dark and also opened a gluten-free and organic café in 2007. 
Visit her at Tesla MedBed (Spa and Wellness) Center. She has created an environment of peace, serenity, and joy for you to experience while you embark on your incredible healing journey! Call: (813) 293-9984
Center Service - A La Carte
Start with a single service below!
Center Service - Membership
Our membership offers you the best value, best choice, and lowest cost per visit for sustained energy benefits. Receive up to 4 visits per month plus many perks and extra savings only for members!
MedBed sessions at significant discounts and the ability to bring a guest along.
An inclusive Bio-Well 32-Organ Energy Scan which shows your personalized need-to-improve and improvement tracking in energy level.
Energize Message, Yoga, and Meditation (vary by center) which deepen the flow of energy throughout your body.
20% discounts on Tesla MedBed Center Services for further improvements.
20% discount on Home-use products so you can continue to receive energy boosts conveniently at home.
Our Tesla BioScore™ tracker and personal consultation plan to monitor your improvements in your Pain, Energy, and Sleep quality and help you get to goal.
Biophoton Phenomenon User Experience Program
We're inviting you to experience Tesla BioHealing technology in the comfort of your own home and/or at your local MedBed center, with the opportunity to purchase—and own— with confidence!
Center Service - Packages
Unable to commit to regular visits? No problem! Packages offer flexibility. Share with family and friends and can be used whenever you want. Easy monthly or lump sum payment options. Click the package below to get started!
Home-Use Products
Combine Home-use products with routine center visits to maintain the healing momentum and sustain the benefits at home. Home-use devices offer the consistency often needed for long-term benefits and optimal health.
Not able to travel to a Tesla MedBed Center, but ready to start the Tesla BioHealing Experience? Shop home-use products below and turn your home bed into a Tesla MedBed!
Gift Card
Give the gift of everyday Energy, Sleep, and Pain-Free living to yourself and your loved ones, pets included 😊💗
ヨガ教室
Tesla Life Force Energyと認定されたIyengarヨガインストラクターのDina Georgoulisに参加して、2022年12月にタンパFLセンターで全年齢のストレスリリーフヨガクラスを受講してください。
Wellness Consultation and Bio-Well Energy Scan 
スキャンは、生命力エネルギーが不足している場所の詳細な概要を提供するために、全身にわたる様々なエネルギーレベルや生理学的システムを徹底的に解析することによって構成される。

また、私たちのテクノロジーについての質問や、具体的にどのような効果が得られるのかについても、お客様とお答えします。
Hourly MedBed Sessions
エネルギー補給は、いつでも気軽にできます。

多くの人々は、Tesla MedBedでわずか1時間休んだ後でさえ、彼らの健康状態の改善に気付き、残りの日のために充電されているとしばしば私たちに言います。

私たちのTesla MedBedに横たわるだけで、あなたの体の細胞があなたのシステムの充電と修理を始めるために必要なように使用できる大量の生命力エネルギーを受け取ることができます。
Day MedBed Session
これは生命力エネルギーいっぱいのホテルの滞在を検討してくださ

これは私達のより大きい中心で生命力エネルギーのかなりの量を受け取るための私達の推薦である。

私たちのテスラMedBedに寝たり寝たりするだけで、あなたの体の細胞が自由に、必要に応じてあなたのシステムの再充電と修理を開始するために使用で