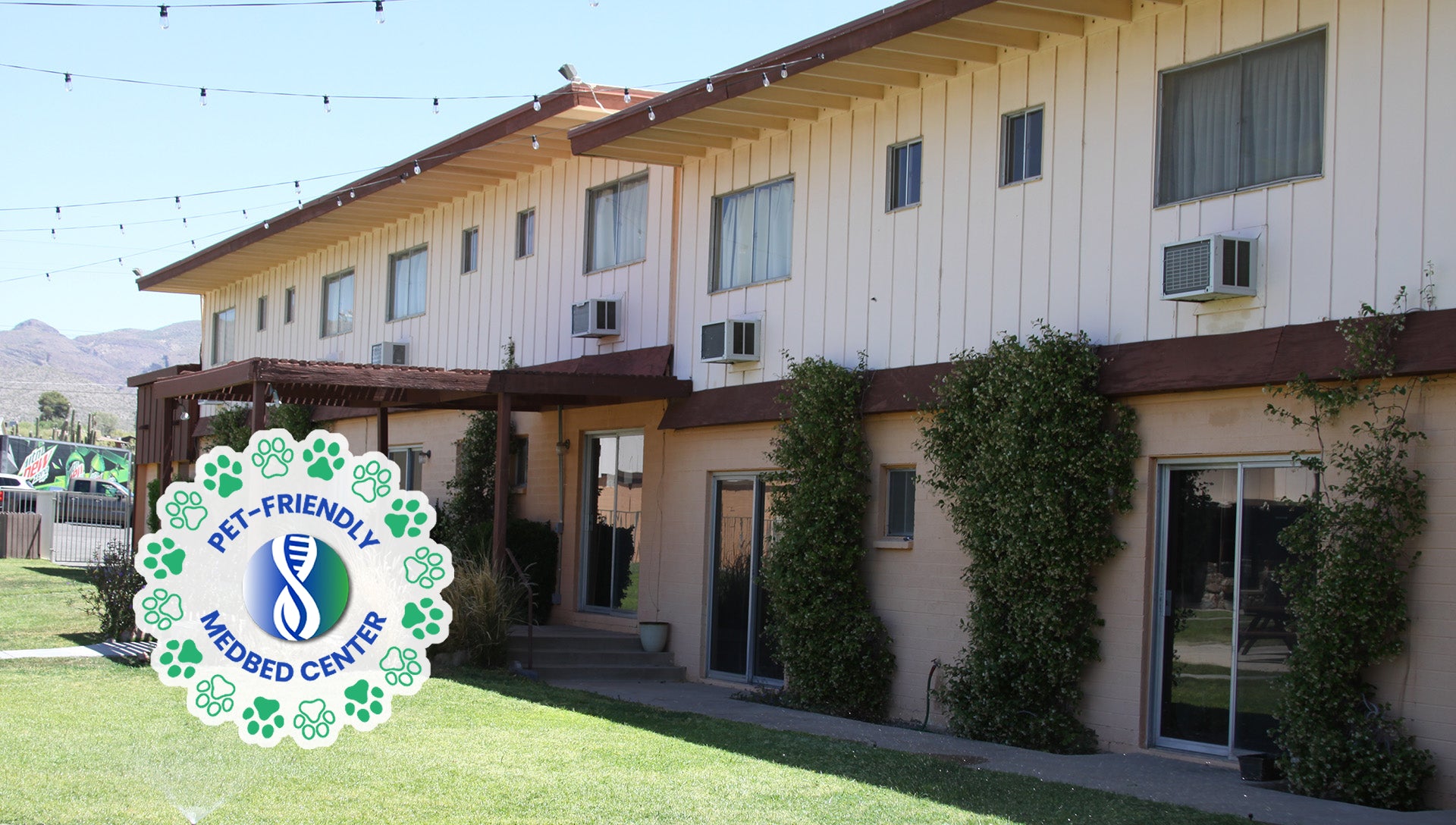 Tesla MedBed Center
KEARNY, AZ 
General Kearny Inn is now Tesla MedBed Center.
On Alden Road in Kearny, AZ sits our Biophoton-powered Tesla MedBed wellness center.
301W Alden Road.
Kearny, AZ 85137
Email: teslamedbedcenter-az@teslabiohealing.com
Phone: (602) 478-2991
Tesla MedBed Center – World's First Energy Wellness Hotel
Elevate your well-being with BioPhoton Technology. Enjoy Total Wellness, inside and out, with Whole-Body Life Force Energy Immersion.
Pain-Free: Move comfortably, reclaim your vibrancy, and reduce chronic pain. Discover natural, non-invasive pain relief solutions at every center. Learn more here.
Sleep: Transform your health with therapeutic rest. Experience deep rejuvenation and vivid dreams as you sleep your way to better health. Learn more here.
Hydration: Cleanse, hydrate, and rejuvenate from the inside out with Biophoton Energized Spring Water. Learn more here.
Energized: Experience enhanced inner vitality and live life to the fullest after each session.
...plus many other benefits of Life Force Energy experienced by our center guests and at-home device users!
At Tesla MedBed Centers, you'll immerse yourself in the ultimate whole-body Life Force Energy experience!
Enjoy the effects of High-Strength Biophoton Technology with our over-the-counter medical devices. We provide a unique experience in that each room is equipped with Center-Exclusive MedBed Generators that let guests stay in a relaxed state of being and receive biophotons into every living cell of the body.
Guests can enjoy an environment rich in life force energy and conducive to maximum healing and relaxation, in addition to the other therapeutic benefits with significant clinical outcome improvements.
Each center offers unique amenities that vary by location—including services enhanced with Tesla BioHealing Technology— such as Energized Massages, Energized Yoga, Energized Meditation, Energized Gym/Fitness, and Energized Swimming/Pool.
To deliver an everyday life quality impacting and sustainable clinical outcome-driven health-benefiting experience, our Centers offer multiple services and plans catered to where you are on your personal healing journey.
First Time Visitor? Enjoy this special offer!
Read for yourself why so many users are sharing their remarkable stories with us! Learn more here.
Track your Progress with Tesla BioScore.
The Town of Kearny was founded by the Kennecott Mining Company. The mine's operation had expanded so far that it was about to envelop the communities of Sonora, Ray, and Barcelona. Many of the residents of these small towns were miners with the company. To help the residents who were about to be displaced, Kennecott developed a planned community for the residents. The first of the new residence moved into town in 1954. The view of the Pinal Mountain range is what the residence of Kearny gets to see daily.
Kearny is located in eastern Pinal County it is also one of the county's most unique towns. The Town is a planned community with most streets elegantly lined with trees. Many homes have similar, yet inviting and unique construction. The town has many amenities, including a grocery store, hardware store, auto parts store, ATM machines, medical facilities and pharmacy. Kearny is equal distance to Phoenix and Tucson, approximately an hour and a half either way. Kearny is also only 45 min away from Globe AZ which is Gila Counties largest city. Along with the friendly ambiance, Kearny is nestled at the base of the Pinal Mountain Range. The location provides prime opportunities for some of the best outdoor recreation in the state. Kearny has developed an ATV, hiking, horseback and picnic trail to help facilitate safe outdoor recreation, also known as eco-tourism.

As the only Arizona MedBed Center and motel within twenty two miles, we've been Kearny's home away from home since 1960. Whether you're looking to heal, just passing through, working at the mines or looking for the place to make your wedding or reunion even more memorable, we will always treat you like family.

With 45 comfortable rooms surrounding a beautiful courtyard, a full lounge and banquet room and games for all ages, memories are made every day at the Tesla MedBed /General Kearny Inn. So bring the whole gang and join us for healing, relaxation and an all-around good time. We'll always have friendly staff and a soft bed waiting for you.
Center Service - A La Carte
Start with a single service below!
Center Service - Membership
Our membership offers you the best value, best choice, and lowest cost per visit for sustained energy benefits. Receive up to 4 visits per month plus many perks and extra savings only for members!
MedBed sessions at significant discounts and the ability to bring a guest along.
An inclusive Bio-Well 32-Organ Energy Scan which shows your personalized need-to-improve and improvement tracking in energy level.
Energize Message, Yoga, and Meditation (vary by center) which deepen the flow of energy throughout your body.
20% discounts on Tesla MedBed Center Services for further improvements.
20% discount on Home-use products so you can continue to receive energy boosts conveniently at home.
Our Tesla BioScore™ tracker and personal consultation plan to monitor your improvements in your Pain, Energy, and Sleep quality and help you get to goal.
Center Service - Packages
Unable to commit to regular visits? No problem! Packages offer flexibility. Share with family and friends and can be used whenever you want. Easy monthly or lump sum payment options. Click the package below to get started!
Home-Use Products
Combine Home-use products with routine center visits to maintain the healing momentum and sustain the benefits at home. Home-use devices offer the consistency often needed for long-term benefits and optimal health.
Not able to travel to a Tesla MedBed Center, but ready to start the Tesla BioHealing Experience? Shop home-use products below and turn your home bed into a Tesla MedBed!
Gift Card
Give the gift of everyday Energy, Sleep, and Pain-Free living to yourself and your loved ones, pets included 😊💗
Gift Box
Give the gift of wellness and health to your loved ones with this special Gift Box!
Wellness Consultation and Bio-Well Energy Scan 
The scan consists of a thorough analysis of various energy levels and physiological systems throughout your body which assists in providing a detailed overview of where Life Force Energy may be lacking.

We will also take the time with you to answer any questions you have about our technology and how it could benefit your health specifically. 
Read more about the Bio-Well Energy Scan here.
Hourly MedBed Sessions
Fast Life Force Energy boosts whenever is convenient.

Many people note improvements in their wellbeing even after only an hour of resting on a Tesla MedBed, and often tell us that they feel recharged for the rest of the day.

Simply by laying on our Tesla MedBed, you will be receiving large quantities of Life Force Energy that the cells of your body can use as at will and as needed to begin recharging and repairing your system. 
Overnight MedBed Session
Consider this a Life Force Energy filled hotel stay!

This is our recommendation for receiving significant amounts of Life Force Energy at our larger centers.

Simply by laying or sleeping on our Tesla MedBed, you will be receiving large quantities of Life Force Energy during your stay that the cells of your body can use as at will and as needed to begin recharging and repairing your system.