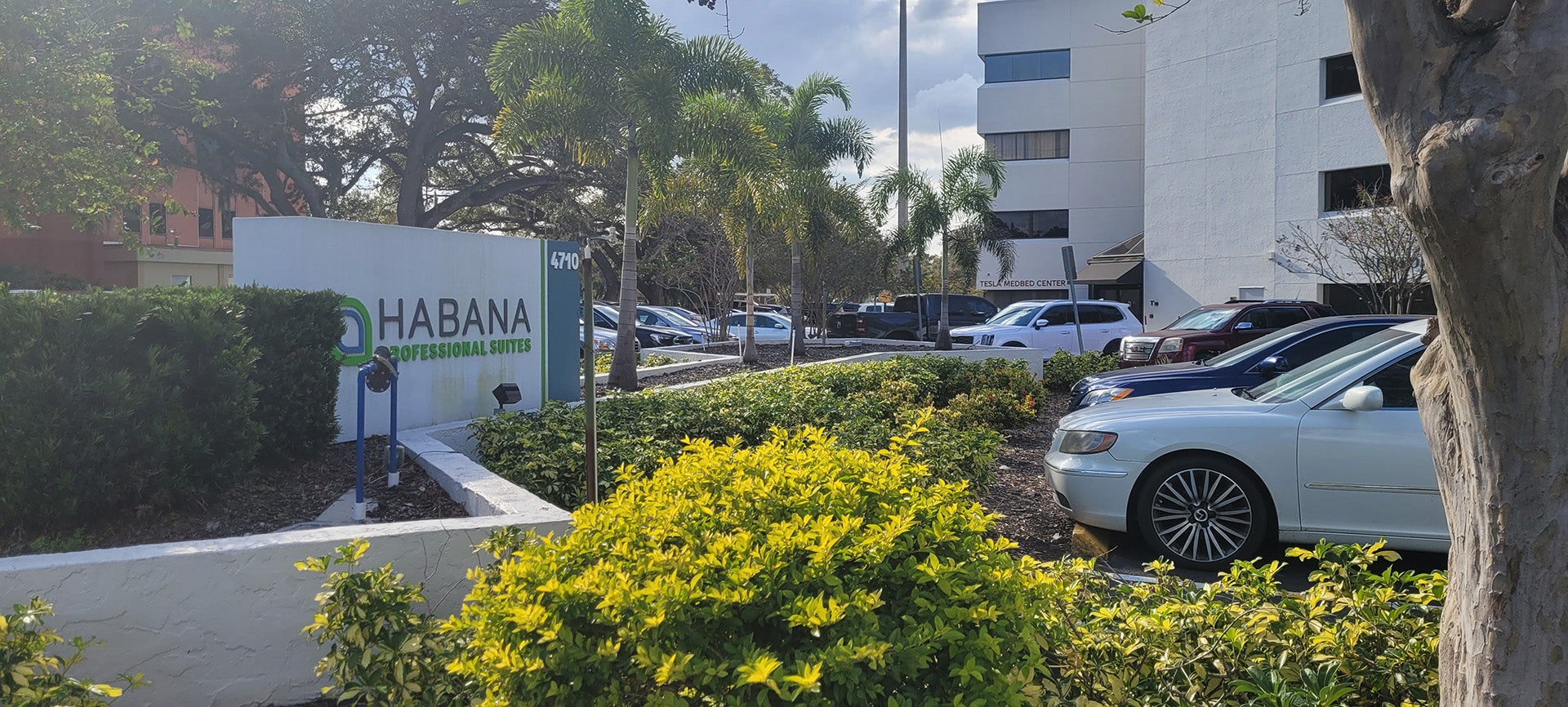 Tesla MedBed Center
TAMPA, FL 
On N Habana Ave in East Tampa, FL sits our Biophoton-powered Tesla MedBed Spa and Wellness center.
4710 N Habana Ave, # 101
Tampa, FL 33614
Email: medbedcenter-tfl@teslabiohealing.com
Phone: (813) 293-9984
(Mon-Fri 9am-5pm)
Tesla MedBed Center – MedBed Spa and Wellness Center
Energy, Sleep, and Pain-Free
Energy, Restorative Sleep, and Pain Reduction are the top 3 benefits from 30,000+ at-center and at-home users reports.
Energized – live your life to the fullest every single day
Sleep – sleep your way to better health with restorative and vivid dream sleep
Pain-Free – move comfortably and experience more life with less chronic pain
Plus many other benefits of Life Force Energy experienced by our center guests and product users!
At Tesla MedBed Center, our guests enjoy and benefit from the super boost of high-strength Life Force Energy with our over-the-counter medical devices. We provide a unique experience in that each room is equipped with Center Exclusive MedBed Generators that lets guests stay in a relaxed state of being and receive biophotons into every living cell of the body. Guests can enjoy an environment rich in life force energy and conducive to maximum healing and relaxation, in addition to the other therapeutic benefits with significant clinical outcome improvements. Each center offers unique amenities, vary by center, and services enhanced with Tesla BioHealing Technology including Energized Massage, Energized Yoga, Energized Meditation, Energized Gym, Energized Pool, etc.
To deliver an everyday life quality impacting and sustainable clinical outcome-driven health-benefiting experience, our Centers offer multiple services and plans that are catered to where you are on your personal healing journey.
Visit our center in person for a Bio-Well Energy Scan, Hourly MedBed Sessions, or Day MedBed Sessions (*Overnight MedBed Sessions by request).
Experience for yourself why so many are sharing their remarkable stories with us!
We are conveniently located next to St. Joseph's Hospital, inside a Medical Facility. Raymond James Stadium, home of the Tampa Bay Buccaneers, is 5 min. away as well as many restaurants and Whole Foods on Dale Mabry Highway. East Tampa is rich in latin culture with a variety of authentic latin restaurants just one block over. We have the popular Publix supermarket .3 mi. from our center. 

Retreat while you Recharge! 
Tesla MedBed Spa and Wellness welcomes you to a unique experience for the day(s) with overnights also available by request. Each MedBed room provides a twin-size bed powered with Center Exclusive Biophoton Generators (equivalent to 14 Gold MedBed Generators of Biophoton Life Force Energy), low lighting and calming scenes of nature. The center has a shared bathroom, a beautiful large walk-in shower, refrigerator/freezer and microwave.  
Expect a stay filled with serenity… high frequency soft music playing along with an aroma of pure essential oils. For your enjoyment, our coffee/tea bar is always available with a variety of organic teas, organic coffee (regular and decaf) and filtered water. We honor our guests with quiet zones throughout the MedBed rooms and ask that any devices be silenced or earbuds be used.  
We invite you to engage all your senses as you support your body's cells in recharging and repairing for optimal, vital energy!   
Center Service - A La Carte
Start with a single service below!
Center Service - Membership
Our membership offers you the best value, best choice, and lowest cost per visit for sustained energy benefits. Receive up to 4 visits per month plus many perks and extra savings only for members!
MedBed sessions at significant discounts and the ability to bring a guest along.
An inclusive Bio-Well 32-Organ Energy Scan which shows your personalized need-to-improve and improvement tracking in energy level.
Energize Message, Yoga, and Meditation (vary by center) which deepen the flow of energy throughout your body.
20% discounts on Tesla MedBed Center Services for further improvements.
20% discount on Home-use products so you can continue to receive energy boosts conveniently at home.
Our Tesla BioScore™ tracker and personal consultation plan to monitor your improvements in your Pain, Energy, and Sleep quality and help you get to goal.
Biophoton Phenomenon User Experience Program
We're inviting you to experience Tesla BioHealing technology in the comfort of your own home and/or at your local MedBed center, with the opportunity to purchase—and own— with confidence!
Center Service - Packages
Unable to commit to regular visits? No problem! Packages offer flexibility. Share with family and friends and can be used whenever you want. Easy monthly or lump sum payment options. Click the package below to get started!
Home-Use Products
Combine Home-use products with routine center visits to maintain the healing momentum and sustain the benefits at home. Home-use devices offer the consistency often needed for long-term benefits and optimal health.
Not able to travel to a Tesla MedBed Center, but ready to start the Tesla BioHealing Experience? Shop home-use products below and turn your home bed into a Tesla MedBed!
Gift Card
Give the gift of everyday Energy, Sleep, and Pain-Free living to yourself and your loved ones, pets included 😊💗
Gift Box
Give the gift of wellness and health to your loved ones with this special Gift Box!
Wellness Consultation and Bio-Well Energy Scan 
The scan consists of a thorough analysis of various energy levels and physiological systems throughout your body which assists in providing a detailed overview of where Life Force Energy may be lacking.

We will also take the time with you to answer any questions you have about our technology and how it could benefit your health specifically. 
Read more about the Bio-Well Energy Scan here.
Hourly MedBed Sessions
Fast Life Force Energy boosts whenever is convenient.

Many people note improvements in their wellbeing even after only an hour of resting on a Tesla MedBed, and often tell us that they feel recharged for the rest of the day.

Simply by laying on our Tesla MedBed, you will be receiving large quantities of Life Force Energy that the cells of your body can use as at will and as needed to begin recharging and repairing your system. 
Day MedBed Session
Consider this a Life Force Energy filled hotel stay!

This is our recommendation for receiving significant amounts of Life Force Energy at our larger centers.

Simply by laying or sleeping on our Tesla MedBed, you will be receiving large quantities of Life Force Energy during your stay that the cells of your body can use as at will and as needed to begin recharging and repairing your system.